The modern office has experienced remarkable transformations in the last two decades, reflecting the evolving needs and priorities of companies. As we become increasingly aware of the influence of office interior design on productivity and employee well-being, it becomes vital to cultivate an environment that encourages engagement and satisfaction, considering that employees spend nearly half of their time working within office spaces. In this comprehensive guide to office interior design, we will explore the key elements and strategies that can contribute to an optimised and inspiring workplace.
Benefits of good office interior design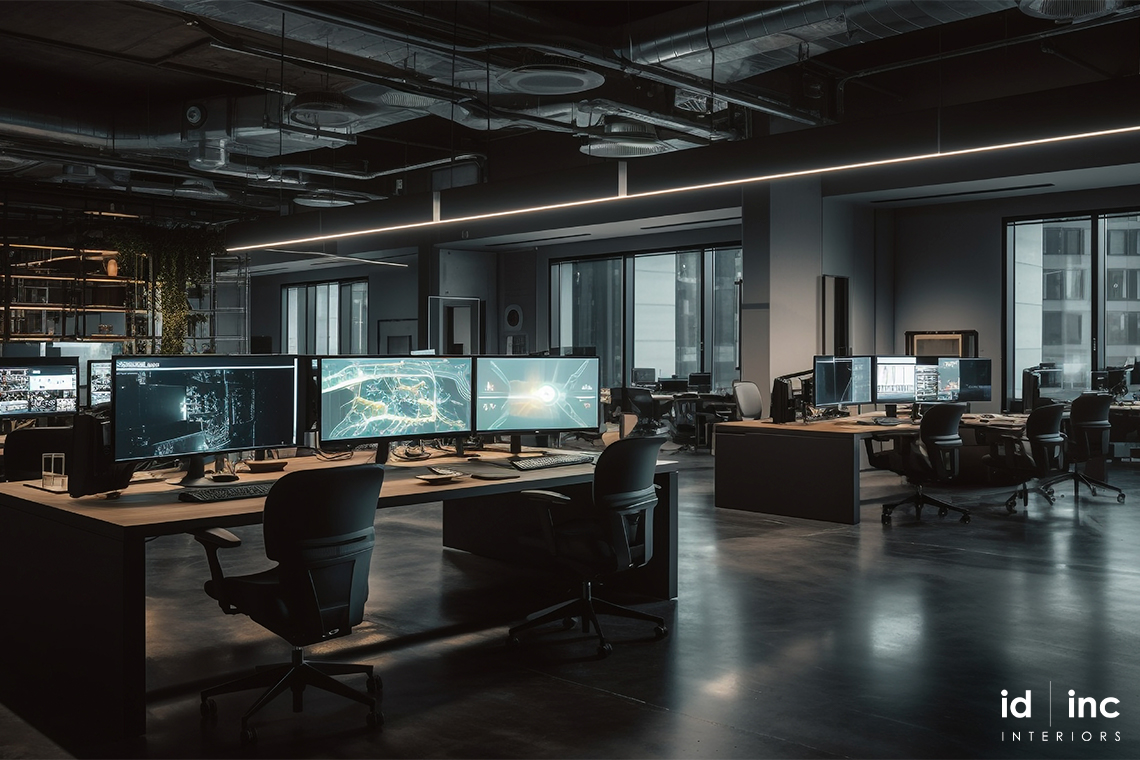 Good office interior design goes beyond visual appeal and focuses on creating an environment that enhances productivity, creativity, collaboration, employee well-being, and even client impressions. This section delves into the various benefits of investing in good office design, and how it can positively shape the overall success of an organisation.
Allows employees to be more productive and creative at work
Captivating and practical interior design for offices has the power to ignite employee productivity and creativity. Thoughtfully designed workspace including workstations and meeting rooms enhance motivation and engagement among employees. By investing in an appealing and functional office design, employees feel invigorated and inspired by their surroundings, and are more inclined to generate groundbreaking ideas and a culture of continuous innovation.
Enhances cross-team collaboration
When employees have easy access to shared spaces and collaborative areas, they are more likely to engage in informal discussions, exchange ideas, and seek input from their colleagues. This fluid exchange of thoughts and knowledge leads to improved problem-solving abilities, as diverse perspectives are brought together to tackle challenges. Additionally, office interior designs that encourage collaboration facilitate seamless knowledge sharing, allowing team members to leverage each other's expertise and experiences. This in turn fosters a sense of camaraderie among team members, leading to the success and productivity of the entire organisation.
Improves employee well-being
A focus on employee well-being leads to increased job satisfaction, reduced absenteeism, and improved overall mental and physical health. Natural lighting, proper ventilation, and comfortable furniture help to support a more pleasant and healthy work environment. Additionally, wellness rooms, quiet zones, and recreational areas can provide employees with spaces for relaxation, rejuvenation, and stress relief. 
Inspires business clients and office visitors
A meticulously designed office space communicates professionalism attention to detail, leaving a memorable impact on prospective clients, partners, and investors. Moreover, it serves as a reflection of the company's brand identity and fundamental principles, nurturing trust and credibility. These elements combine to create a favourable impression that plays a vital role in driving business success.
Improves employee recruitment and retention rates
In today's competitive job market, attracting and retaining top talent is essential for organisations. Potential employees are increasingly looking for workplaces that prioritise their well-being and provide a comfortable and inspiring environment. Showcasing a well-designed office allows companies to differentiate themselves and attract those who value a positive work environment. Furthermore, a thoughtfully designed office can contribute to job satisfaction and create a sense of belonging and pride among employees.
Journey design and creating zones
Journey design is about understanding how people will interact with a building or space, and creating an environment that ensures a seamless and engaging experience. When embarking on an office renovation project, factoring in the strategic creation of zones help to play a vital role in shaping how individuals perceive and experience a company. Read on as we explore how creating zones can support companies in optimising functionality, aesthetics, and overall satisfaction.
Offices can be separated into zones
To enhance the efficiency and functionality of an office space, well-defined zones matters. Each zone serves a specific purpose and significantly impacts the overall experience, creating spaces that cater to the unique requirements of different activities. 
Arrival or entrance zones
The arrival or entrance zone serves as the initial point of contact for visitors. Hence it is of utmost importance that when visitors step into the building, they are met with an atmosphere that exudes professionalism, warmth, and efficiency, setting the tone for a positive and productive experience.
Reception zones
This area should be designed to facilitate smooth check-ins, efficient communication, and comfortable waiting areas. Well-trained reception staff, adequate seating, and clear signage contribute to a positive experience, leaving visitors with a favourable impression of the company. Additionally, incorporating interactive displays or digital screens can provide valuable information about the company, its achievements, and its culture.
Working zones
The working zones are essentially the heart of the office, where employees spend a significant amount of time. Providing ergonomic furniture, adequate lighting, and flexible layouts can enhance comfort and efficiency. The arrangement of desks and workstations should promote communication and teamwork while also offering privacy when needed.
Social zones
Social zones play a crucial role in promoting employee well-being and fostering a sense of community. These areas can include breakout spaces, lounges, cafeterias, or outdoor spaces where employees can relax, socialise, and recharge. Through incorporating comfortable seating, recreational activities, and appealing aesthetics, social zones present opportunities for informal interactions that can boost employee morale and satisfaction.
How to manage office space
Efficiently managing office space is crucial for creating a productive and harmonious work environment. The design and layout of an office can significantly impact employee satisfaction, collaboration, and overall productivity. Keep reading to learn the essential aspects of office space management and insights to optimising your workplace. 
Balance between cubicle and open plan designs
While open plan layouts promote collaboration and communication, they may also create noise and distractions. On the other hand, cubicles offer privacy but can hinder collaboration. The key is to strike a balance by having designated collaborative areas within an open plan layout and providing private spaces for focused work. This combination ensures that employees have the flexibility to choose an environment that best suits their tasks and preferences.
Consistent with your needs and company culture
A well-designed office should reflect your company's values, mission, and work style. Consider factors such as the nature of your business, the type of work performed, and the preferences of your employees. For example, if creativity and innovation are central to your organisation, creating vibrant and inspiring spaces with comfortable seating areas and handily available whiteboards can foster brainstorming sessions and idea sharing.
Limit distractions while leaving space for teamwork and bonding
Distractions can significantly hamper productivity and focus. However, it is equally important to create opportunities for teamwork and bonding among employees. To strike the right balance, implement strategies that reduce distractions without isolating individuals. Encourage the use of designated quiet zones or noise-cancelling headphones for focused work, while also incorporating shared spaces such as lounges or break rooms where employees can connect, collaborate, and build relationships. This approach promotes a sense of community and teamwork while providing options for uninterrupted work.
Flexible, adaptive, and intuitive
Flexibility is crucial to accommodate evolving work practices and support different work styles. Consider incorporating movable/mobile furniture, adjustable workstations, and modular dividers to create a flexible environment that can be easily reconfigured. Additionally, invest in intuitive technologies such as smart lighting, temperature controls, and integrated audio-visual systems to enhance employee comfort and productivity. 
Collaborative and communal spaces
Recognising the importance of collaborative and communal spaces within the workplace is essential for creating a vibrant and engaging environment. This section explores three key aspects to consider.
Meeting rooms, pantry spaces, water coolers 
When planning an office layout, it is vital to incorporate elements into the office design that cultivates an environment that prioritises collaboration, productivity, and employee well-being. Meeting rooms, for instance, serve as designated areas for teams to gather, exchange ideas, and make informed decisions. Pantry spaces are valuable communal hubs where employees can relax, socialise, and recharge. Stocking them with healthy snacks, beverages, and amenities can encourage a sense of community, promoting spontaneous interactions and thriving collaboration. 
While often overlooked, water coolers also play a significant role in promoting employee well-being. They provide easy access to hydration, supporting good health, and fostering opportunities for chance encounters and casual conversations. 
Workers cannot be expected to sit at their desks all day
Recognising that employees cannot be expected to remain tethered to their desks all day is crucial for cultivating a dynamic work environment. Flexible seating arrangements, such as standing desks, communal workstations/hotdesks, or comfortable lounge areas, give employees the freedom to choose a work environment that suits their needs. In addition, these spaces provide an escape from the monotony of sitting in one place and stimulate creativity through a change in perspective.
Communal spaces should be big and relaxing
Creating communal areas within the office that prioritise spaciousness and relaxation is crucial. These spaces serve as retreats where employees can unwind, recharge, and connect with colleagues on a more personal level. For this reason, including versatile seating options like lounge chairs, couches, and bean bags caters to individual preferences and elevates the relaxation experience. Aesthetically pleasing elements such as abundant greenery, and ample natural light also creates a serene and inviting ambiance. Additionally, these versatile spaces can be utilised for impromptu meetings or casual discussions, fostering a sense of collaboration and teamwork.
Ergonomics, colours and lighting
In today's fast-paced world where we spend a significant portion of our lives in the office, it is essential to create a workspace that not only promotes productivity but also nurtures the well-being of employees. Office interior design plays a crucial role in achieving this balance. A successful office interior design revolves around the concept of building a space that is tailored to the needs and comfort of the people who occupy it. Read on to discover how to transform an office into a harmonious environment that enhances employee satisfaction and performance.
Choosing furniture that is appropriate
The choice of office furniture is a vital aspect of creating an ergonomic workspace. Ergonomically designed chairs, desks, and workstations contribute to the physical comfort of employees, reducing the risk of musculoskeletal issues and enhancing productivity. Adjustable chairs and desks, as well as supportive backrests and armrests, help employees maintain proper posture and prevent strain on the body during long working hours.
Ensuring sufficient space for walking around
Incorporating open areas and clear pathways not only encourages movement but also facilitates spontaneous collaboration and communication among team members. By minimising clutter and providing ample space for walking around, employees can navigate the office comfortably, promoting a sense of freedom and reducing stress levels.
Bringing in nature
Integrating elements of nature, even in a modest manner, can create a serene and invigorating ambiance in the office. Furthermore, indoor plants not only enhance the visual appeal of the workspace, but also have numerous benefits such as purifying the air, alleviating stress, and boosting productivity.
Office acoustics
A well-designed office takes into account the impact of sound on employee concentration and comfort. Implementing proper acoustic treatments, such as sound-absorbing materials, strategic placement of dividers, and noise-cancelling systems, can reduce distractions and create a quieter work environment. This is particularly important in open-plan offices, where the balance between collaboration and focused work needs to be maintained.
Good lighting that is appropriate for working on screens
Optimal lighting is essential for a productive and visually comfortable workspace, especially in the era of digital screens. Adjustable lighting solutions, such as task lighting and glare-reducing fixtures, helps reduce eye strain and fatigue caused by excessive screen time. Providing employees with the ability to customise their lighting levels based on individual preferences contributes to a more personalised work environment.
Relaxing lighting for communal areas
Communal areas, such as break rooms and social spaces, are essential for nurturing employee well-being and promoting collaboration. By integrating soothing lighting fixtures, such as warm tones and adjustable options, these spaces can serve as relaxing retreats from the demands of work.
Learn more: What You Need to Know about Office Lighting | id.inc
Soothing colours to help with stress
The psychological impact of colours should not be underestimated in office interior design. Soothing colours, such as blues and greens, can promote a sense of calmness and reduce stress levels. Additionally, incorporating pops of energising hues like yellow or orange in appropriate areas, can stimulate creativity and enhance mood.
Determining your company culture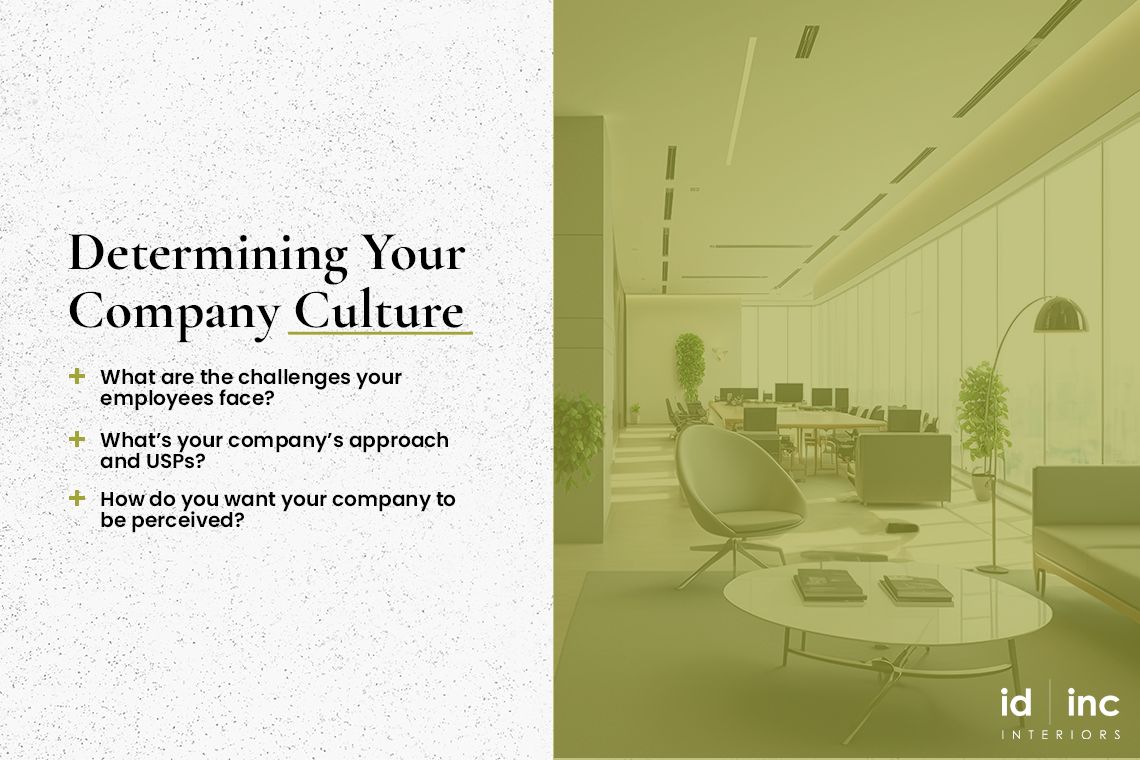 Company culture plays a crucial role in the success and growth of any organisation. It defines the values, beliefs, and behaviours that guide the actions of its employees. Learn these key points to help you determine your company culture effectively.
What are the challenges your employees face?
To establish a strong company culture, it is essential to understand the challenges your employees face on a daily basis. This can be achieved through open communication channels and active listening. Encourage your employees to share their concerns and difficulties, and take them seriously. Identifying and addressing these challenges will foster a positive and supportive work environment, contributing to a healthy company culture.
What's your company's approach and USPs?
After understanding employee challenges, define your approach and Unique Selling Points  (USPs). Reflect your values, vision, and goals to create a distinctive culture. Highlight unique aspects like a flexible work environment or employee development. It is also beneficial to consistently communicate and embody your USPs to attract and retain culture-aligned employees.
How do you want your company to be perceived?
The reputation and brand image of your company significantly influences its ability to attract top talent and cultivate strong relationships with clients and partners. Consider the desired perception of your company – would you like to be seen as innovative, collaborative, or customer-centric? Determine the core values and characteristics that align with your brand, shaping how others perceive your organisation.
Misconceptions about good office interior design
When it comes to designing office spaces, there are many misconceptions that can lead to poor decision-making. We explore these misconceptions and shed light on whether they carry any weight.
Open layouts are better than cubicles 
Open-plan layouts have become popular for promoting collaboration, but they aren't always suitable for every organisation. While they encourage teamwork and creativity, they also bring noise distractions and privacy issues. Cubicles on the other hand, provide focused workspaces, minimising interruptions. Find a balance between open-plan and enclosed spaces is crucial, and customise the interior design for your office to fit the organisation's specific needs and work culture.
Lower quality furniture can save costs
One common misconception is that investing in lower quality furniture is a practical way to cut costs in office design. However, this approach can actually have negative consequences in the long run. Inferior quality furniture may be more prone to wear and tear, requiring frequent replacements and repairs. In addition, uncomfortable and poorly designed chairs and desks can lead to employee discomfort, reduced productivity, and even health issues. 
Good interior design is expensive
When it comes to commercial interior design, the costs can often soar, leading many to believe that good office interior design is synonymous with a hefty price tag. However, it is essential to recognize that the value of a well-designed workspace goes beyond its monetary worth. Enlisting the services of a skilled interior design company, makes it possible to achieve a remarkable office interior that not only fits within budget constraints but also encompasses both aesthetic appeal and functionality.
An experienced interior design team possesses the expertise to transform an ordinary office into an extraordinary one, regardless of financial limitations. They have the ability to optimise the available space, strategically arrange furniture and decor, and select appropriate colour schemes and lighting to create an inviting and efficient work environment. This results in a custom-made solution that aligns with the company's brand identity and enhances employee productivity and satisfaction.
Common questions you may have
We conclude this guide with some questions you may have regarding office interior design and commercial renovation.
What are the different types of office layouts?
In the modern workplace, there are several commonly used office layouts that serve different purposes. Open-plan office layouts foster transparency and teamwork by eliminating physical barriers, encouraging collaboration and communication among employees. Cubicle infused layouts offer individual workspaces that provide a degree of privacy while still allowing for some interaction and collaboration. Well thought-through layouts strike a balance between open spaces and private offices, paving the way for teamwork and individual focus.
What differentiates a modern workplace from a traditional office?
In contrast to traditional offices, modern workplaces prioritise flexibility, enabling employees to work from multiple locations and embracing remote work. They leverage advanced technologies like cloud-based collaboration platforms and video conferencing systems to boost productivity. Moreover, modern workplaces place a strong emphasis on employee well-being, promoting a dynamic and inclusive work environment.
What are some easy ways to improve my office interior design?
Enhancing your office interior design doesn't have to be a daunting task. Simple changes can make a significant impact. Start by considering colours and lighting that promote focus, creativity, or relaxation in different areas of your office. Invest in ergonomic furniture to prioritise employee comfort and well-being. Finally, address acoustic considerations by using sound-absorbing materials or providing private spaces for meetings and focused work.
Conclusion
In conclusion, the impact of interior design on the workplace and its benefits for a company cannot be overstated. A well-designed office environment has the power to significantly enhance employee productivity, satisfaction, and overall well-being. Through integrating these key elements and implementing the strategies outlined in this guide, businesses can revolutionise their office spaces, creating an environment that nurtures employee engagement, satisfaction, and overall success.
Ready to create an office space that inspires your employees and impresses your clients? id.inc is a leading interior design company in Singapore with a team of qualified interior designers skilled in guiding you through the entire design process, from conceptualization to implementation. Their attention to detail and commitment to excellence will ensure that every aspect of your office interior design is carefully crafted to meet your unique needs and preferences. Take action now and schedule a consultation – together, we can transform your office into a vibrant and productive environment that effectively sets the stage for your company's future success.