When it comes to office renovation in Singapore, office lights are often under prioritised even though they're actually an integral part in affecting the overall aesthetics and feel of your office space. With such a wide variety of lighting options and designs, it's important to be familiar with each of these and how they can impact your office space differently. If you're looking to build an ideal work environment for your staff, you should probably carefully consider lighting and its integral role. Read on to learn more about the importance of choosing the right office lighting.
Understanding Different Lighting Options (LED, Fluorescent, Halogen)
There are different kinds of lighting with their own properties and areas of benefit, so understanding how each lighting option works can go a long way in helping you illuminate your office space appropriately.
Fluorescent lights, for instance, have been the default lighting option for many years, but they have been gradually replaced by longer-lasting halogen lights and LED lights. That being said, LED lights seem to be the new benchmark for great lighting; not only do they last longer than halogen lights, they are also cooler to the touch and more environmentally friendly. If you're unsure about which lighting option suits your office best, you may also consider seeking professional opinion from experts at an interior design company.
Brightness
As briefly mentioned earlier, different lighting colours and temperature suit different lighting requirements based on factors like the time of day and so on. While you'd typically want a productive office to be brightly lit to maximise concentration and output, you also do not want to overwhelm your office space with an obnoxious amount of white light that makes your space seem sterile and soulless. They should also not overwhelm laptop screens that could amplify glare and make working a bigger chore than it already is. Generally, poor lighting can lead to eye fatigue and even accidents. Overly bright lights in a workplace can lead to health issues including stress, glare strains and even headaches for employees. Both extremes lead to poorer work quality as well as lower productivity.If you're not sure what the optimal lighting should be, let professional services like commercial interior design in Singapore handle it for you instead.
Colour & Temperature
Another benefit of LED lights is that modern models also come with the ability to customise and adjust the colour and temperature of your LED lights to suit different lighting requirements, such as warm yellow or warm orange for winding down, and cool blue or white for keeping awake and concentrating. The dynamism of LED lights makes it the ideal lighting option for office spaces. Either way, it's important to note that the colour and temperature of your office lighting plays a key role in the health and productivity of your team. If you're already going to invest heavily in office renovation in Singapore, you should make the most of the opportunity to create a welcoming and comfortable office environment for your employees.
Learn more: How Office Interior Design Improves Productivity
Computer Placement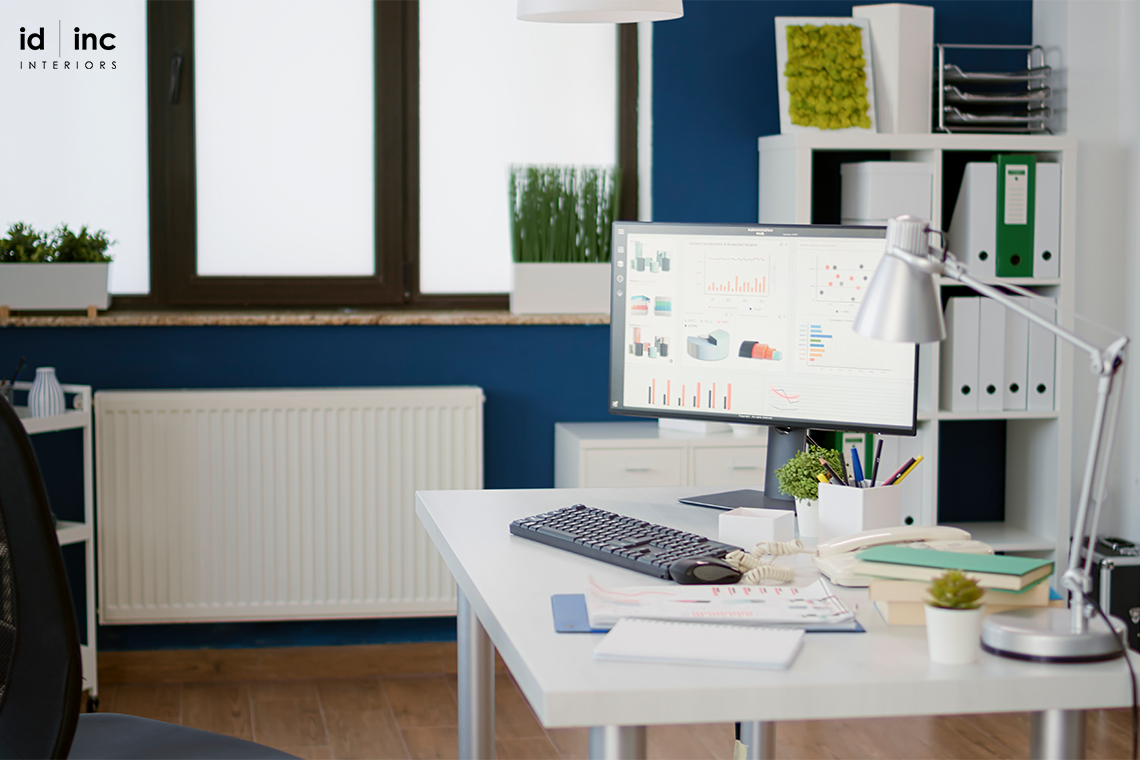 One of the many things that a professional interior design company in Singapore like id.inc is good at, is to position office lighting in a way that doesn't overwhelm computer screens. Factors like the brightness of the lights and even the location of your windows can play a part in rendering computer screens too glaring to work with. Unfortunately, gauging the right distance and spacing between lights can be challenging, and that's where we can come in with our wealth of knowledge and expertise to create a suitable floor plan that fosters productivity in the workplace without compromising on comfort.
For more information about our services, please visit our website.