Moving to a new location is a task that is rife with opportunity. It turns a new chapter in the life of a corporate organisation, and gives business owners a chance to rethink their approach to working from the office. The days of bland, stark cubicles are long behind us, and modern workplaces today are expected to provide a productive, yet comfortable environment for employees.
Beginning this transitional journey into a new office can pose a challenge. Decision makers have to balance different priorities when it comes to the interior design, while guaranteeing that it meets their operational needs. To help you on your way, we've put together a short guide on the main design aspects you need to focus on when your company moves to a new location.
Learn More: Why Office Interior Design Is Important For Business
1) Determine Your Priorities
Every organisation has unique requirements for an office environment. Larger corporations need to think about space, and where their numerous employees will be seated. Companies in more professional industries like law or finance would opt for a more corporate looking workplace, while businesses engaged in creative activities would need an office design in Singapore that reflects their imaginative and inspired capabilities.
Some key priorities to consider would include productivity, brand identity, and amenities. When deciding on an office layout, you should always think about how to maximise productivity i.e. work output. Add flexible spaces for collaborations, but be mindful that employees need enough space to focus on tasks without getting distracted.
Brand identity is an important consideration for businesses that frequently have clients coming through their office. Your workplace interior design makes a strong first impression to both clients and potential hires, and sends a message about the type of company you run and how you conduct business.
Finally, amenities like pantries, water coolers, and even spaces for employees to relax, can all go a long way in making your office space more conducive for working.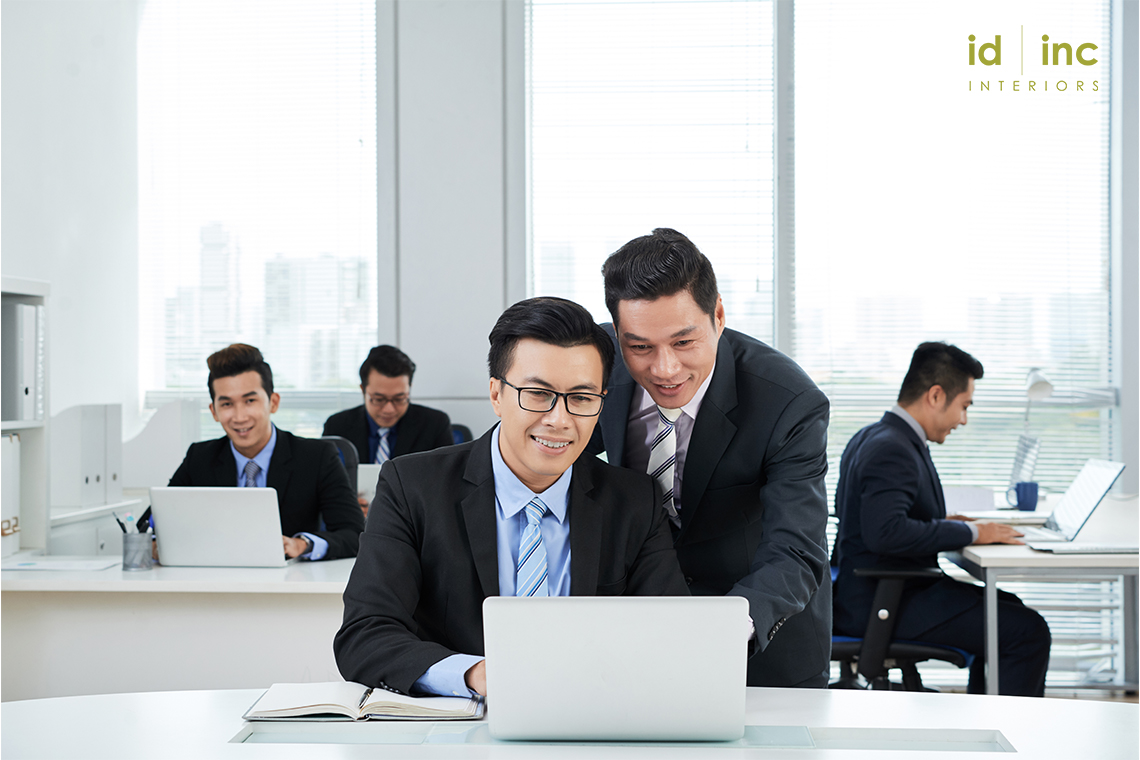 2) Office Flow
Every workplace has a flow. While many workers are likely to spend most of their time at their work stations, there will always be people moving around in the office. There will be high traffic areas, like entryways to pantries or washroom facilities, which should not intersect with each other to reduce congestion. When speaking to your office renovation contractor about your interior design, it's important to decide on the flow of people from one location to another.
Meeting rooms or collaborative spaces should be kept away from high traffic areas, as should cubicles and desks. This minimises distractions and ensures everyone remains focused on the task at hand. Departments that collaborate frequently should be kept close to each other, and partitions or furnishings must not overly obscure visibility of the surroundings.
3) What To Do When Leaving Your Current Space
While looking ahead to your new space can be exciting, business owners cannot forget about their obligations as tenants in their current offices. Many leasing agreements require businesses to reinstate offices to their original or agreed-upon condition before handing over the keys. Failure to do this can result in financial penalties in the form of forfeiture of your security deposit, or even legal action in more severe cases.
There may be a list of requirements when it comes to reinstatement works, and business owners should pay close attention to the conditions that need to be fulfilled. Business owners may be obliged to remove all fixtures and fittings, repair any and all damage to the interior, and repaint the premises.
In these circumstances, it is best to rely on the services of professional interior design companies capable of carrying out such office reinstatement works. Such companies have the requisite experience to finish reinstatement before your lease expires, to ensure you do not breach the terms of your contract.
Businesses grow, change, or downsize from time to time and moving to a new office is an inevitability. It may even prove to be an important milestone in a company's history and can represent a seismic shift in the way it operates. How business owners approach the shift to a new workplace may become a determining factor in their success, and due consideration must be given to the interior design of their future office.
As an established leading interior designer company in the region, ID inc has first-hand knowledge of the many difficulties encountered when businesses make the move. We provide full-suite Design & Build services for new offices, and we also handle reinstatement works so that your transition to a new place goes smoothly. Contact us today to learn more about what we offer, and send it any questions you may have.